Hungry Nation
the novel, by Greg Nichols, 2013
Save this site to favorites to find your way back!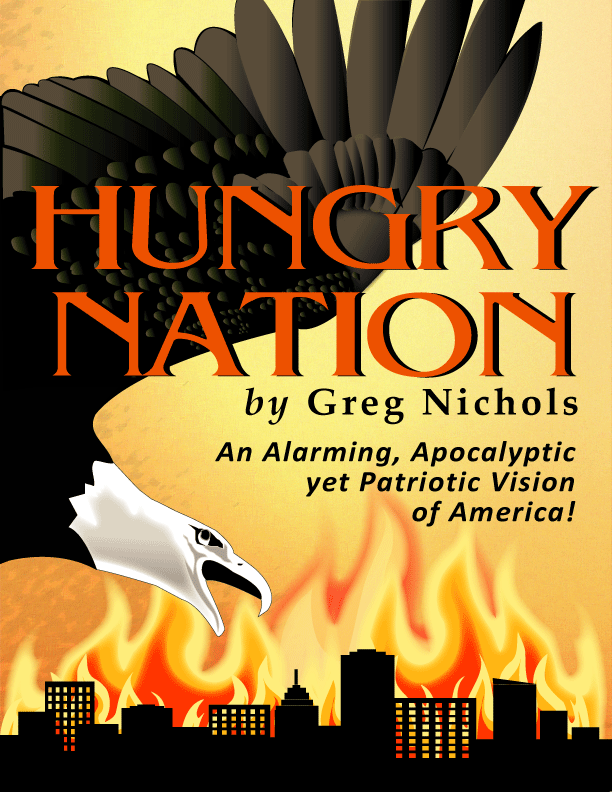 This entertaining and horrific apocalyptic story that also gives hope will make people re-think their views on socialism! This is more than a book, this is an encounter and a revelation of dominion in Christ!

About the book from one of our editors:

"Cross Frank Peretti with Joel Rosenberg, and you've got Greg Nichols – a master of socio-political intrigue with the revelation of spiritual dominion. Relentlessly eye-opening and frighteningly based upon current political and economic directions, Nichols weaves an edge-of-your-seat pre-apocalyptic adventure. Laced with fundamental governmental truths, the parallel reality of the spiritual realm, and the fierce allegiance of fearless patriots, Hungry Nation will strike a chord in the loyal American, and raise a warning flag over a nation in distress. It is a novel of both great alarm, and of great hope."
"Like" Hungry Nation's Fan Page on Facebook!
"Like" the Author, Greg Nichols on Facebook!
This novel will be in paperback and Kindle and Nook format very soon!
Readers Please Note:

We also have aHungry Nation: Reader's Guide and Author's Commentary to be released soon. This is full of valuable revelation and information about the novel, through the author's eyes, and many comments about the characters. Also included are columns and essays by the main character, Justin Brooks, including,The Dominion of Christ In America, and,God's Legal Access, and,Concentric Circles For a Hungry Nation! In addition, read an analysis by the author of the characters, Justin's America, and much more. Watch this website for the release of this e-book guide any day!
Other Teachings by Greg Nichols
See these order pages for dynamic teachings from the author, Greg Nichols, on Angels, Removing Addictions, and much more!

White Fields Ministries * P.O. Box 434, Roseville, CA, 95678